A few weeks ago, the very talented erotica author Alison Tyler and I were chatting via Twitter about manners for creative business people on the internet. And then we got talking about creating a book about said manners (don't let the hoity-toity literary magazines fool you with their articles about how fantastic book ideas come about over tea and crumpets; in my experience, the vast majority of great creative ideas are born when smart people with no filters imbibe too much alcohol or coffee or both, then get on the internet and start going, "You know what we should do?!" "Yeah!" "A book about manners!" "Yeah!" and then they write up a fake table of contents, going "Yeah!" and then suddenly the world stops and they're all like, "Crap, this is good. We should really make this happen.").
Since I don't have time to write a book at the moment, I'm going to write a blog post. About manners. For creative business people. On the Internet. Because: You, as a creative person, as a business person, as a real live person of any walk of life, should know how to conduct yourself online (and truly, elsewhere too). This information might become a book. Or an ongoing series. Or maybe just a one-time rant that will surely make someone on the Internet hate me, because they're going to say, "I don't need to be nice. It's the fucking Internet for fuck's sake. Who does she think she is, Miss Fucking Manners?"
Yes. Yes, I do think I'm Miss Fucking Manners. See image below for proof.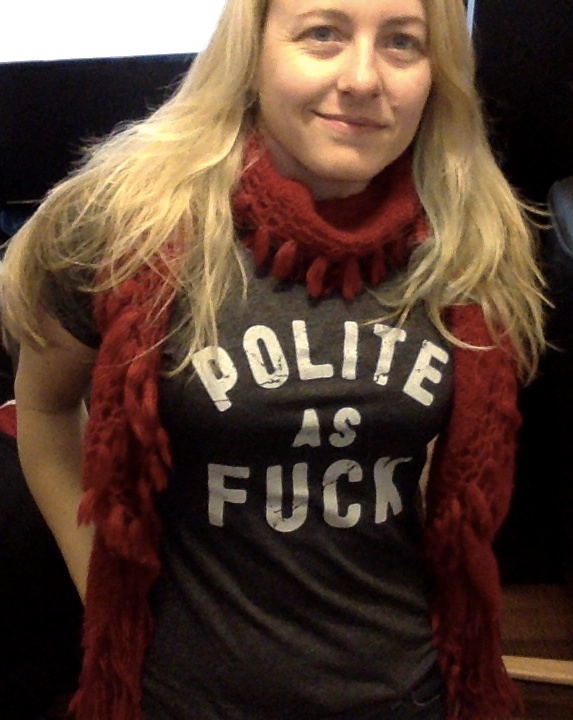 Onward. Haters can stop reading right now. We don't want you to learn this stuff anyway, because then you can keep outing yourselves so beautifully with your utter lack of manners and we can all lock you out of our virtual houses once and for all.
So here's the list (more to come, maybe, as I think of them). And of course, this list isn't just for the internet. It's good for conventions, workplaces, daily life, and anywhere that you might interact with other human beings:
Be Fucking Respectful. As Wil Wheaton is fond of saying, "Don't be a dick." But I say better yet, go a step beyond that. Play nice. BE nice. Appreciate people for what they bring to the table. See people as human beings with hearts and loved ones and illnesses and fears and dreams. Be willing to accept that someone else doesn't share your viewpoint. Respect that viewpoint if you can. Give people the benefit of the doubt. Maybe people are accidental assholes. It happens. If you can't say anything nice to someone, then find someone else that you can say something nice to. Which brings me to:
Say Nice Things To/About the People Who Deserve Them. Love another author's work? Tell them. Think someone makes beautiful art or said something particularly smart or is doing an amazing world-changing thing? Tell them. Tell them. Tell them. It's so easy. And it makes the world a better place. Also, share what you love. It helps spread good things, like a virus that you actually want to catch.
Tell Dicks to Fuck Off. Being respectful only works IF the other people are also being respectful to everyone else. Once they cross that line, I think it's okay to tell them to fuck off. It's also okay to just leave the interaction. Do what's best for you. In video games, there's a saying–"Stay out of the fire" or "Don't stand in the bad stuff" — that is used when someone stands right smack dab in the middle of whatever is hurting them (usually fire or poison emitted from a horrible creature) until they die. Don't do that, unless you have the appropriate armor and weapons (or a death wish). Otherwise, it's okay to get the hell out.
Have the Appropriate Armor and Weapons. Being a person is hard. Being a person on the internet is harder. Build your armor if you can. It helps you maintain dignity, respect, kindness, and human empathy. My armor is a mish-mash of self-respect, self-confidence, experience, perspective, and a small army of friends who tell me what's what. My weapons are kindness, respect, human empathy, and my brain.
Shut the Hell Up Once in a While. Spoiler alert: You are not the most interesting/informed/educated/experienced person in every forum/chat room/virtual space. Yes, you might be the most (fill in the blank) person in one particular room, but not in ALL the rooms. It's just not possible. Other people are smart and talented and experienced too. So shut up and listen. People hate blowhards. Unless you're teaching or giving a lecture, if you've talked or typed for more than a few minutes and no one else has said anything, shut up. They're quiet because a. you haven't given them the chance to say anything with all your ranting and b. they're now not paying one iota of attention to you because they've zoned out and are thinking about tacos, sex, or puppies.
Don't Burn Your Damn Bridges. I don't consider myself a petty person, but if you don't know me and you start talking about what a shitty person I am online, if you lie about me, or tell the world how much my book sucks because of how much I suck (unless you are doing an actual review of the actual product, in which case, criticize away!), I will remember it. If you are a purposeful asshole to my friends or colleagues, I will remember it. (We're all accidental assholes sometimes — that always deserves a second chance). If you are negative about everything or purposefully attempt to create hatred or vitriol, I will remember. Everyone else will remember it too. Because the internet isn't a dinner party. It's a public megaphone with a recording device attached, and everyone will know that you said that shit FOREVER. I suppose this isn't a big deal if you're just a person, because people will just label you an asshole and move on. But if you're trying to make it as a business and/or as a creative person, you've just lost a whole lot of opportunities.
Learn these Words: Please, Thank You, I'm Sorry, You're Awesome. Use them whenever necessary. Which is about three times more often than you think.
Please share this if you think it will help someone.
Thank you for reading.
I'm sorry for all the times that I forgot to mind my manners.
You're awesome.
Kiss kiss bang bang, s.