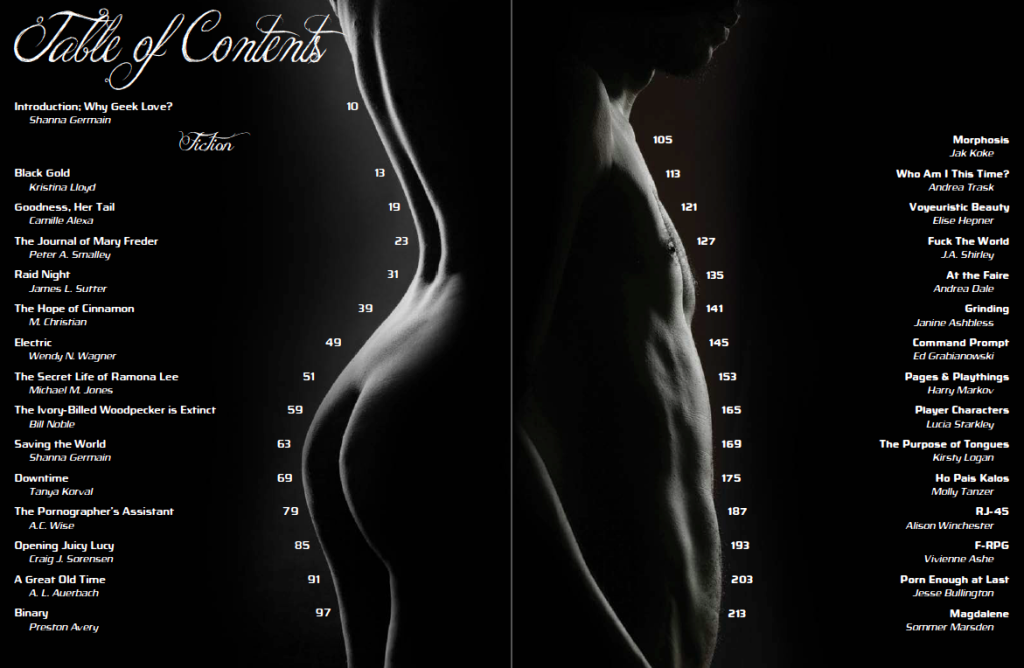 My baby's a superhero.
And Sweet Jesus, but she's got her powers turned on tight tonight.
You'd think she was the only one up on that stage and not part of a five-man band, from the way she holds court, all but mouth-fucking the microphone. Girl's got the biggest, plumpest lips you've ever seen, and tonight they're the purple of just-ripe plums, of bruises, of that half-moon mark where teeth tighten together over skin.
If you can bear to take your eyes off her mouth, go down. Slow. Open neckline, dark blue curls falling against her olive skin. Hint of cleavage. Long vanilla scar down the top right of her breast. Black spandex that works her curves like no-man's land, makes you just want to taste that shine with your tongue all over.
The band behind her, they've got capes over their jeans and t-shirts. But no cape for her. It gets caught in her heels, she says, but you know it's really that it covers too much of her. She likes to show off those hot-damn hips, that fine-as-rain-ass, those missing legs that end in something different every show
Tonight they're steel filigree from her knees down; leaves and flowers and a hundred tiny metal creatures tucked into the empty spaces. She's got a thing for whimsy wrapped in an enigma tucked into a weapon. Her legs, her feet really, end in six-inch knifed heels that could kill a man. Probably have killed a man. I don't ask most times, because I don't need to know. Sometimes she tells me anyway. And that's when I have to buy a bottle of fine-ass whiskey and walk away from her, go down to the strip where the boys play ball in corner pockets and they're all-too-happy to wield a fist to a face, a paddle to a place where the ass meets the mind.
Up there, on that stage, she looks like she's singing, but she's not singing. What she's doing is so far beyond singing there are no words. A place beyond thought and sound coming together. If I believed in God, I'd say she was making the world, one note at a time. She just opens her mouth and suddenly things are in the world that weren't there before. You. Me. Love. The sound of your breath leaving you, never to find its way back. I guess you'd call that death.
She makes the sound that makes death and life and love and when she stops, the crowd becomes a room of silence. Waiting. Teetering. Here, she could utter one more thing and blow them all over, explode them apart. End of days and all these delicate bodies would go down smiling.
One of these nights, I expect her to do it.
Not tonight. She smiles. Takes a deep breath. Bows. Her legs shine fierce as roughcut diamonds, sharp as a hand of razor blades before the fist. Some fan in the front row reaches up to the stage and touches the very edge of her toes. The metal protects him from her, but not from himself. Coppery blood arches into the air, and he draws his hand back, clutching himself. Ask him in five years, after he's forgotten what it was like to have a finger there, and he'll say he'd do it all over again, just for a taste of her, just for a single life-bleeding touch.
Bloodspill raises the crowd one more notch, fists in the air, fists in each other's faces. They're chanting, "Val-tora! Val-tora! Val-tora!" Once in a while someone screams, "Woooonder Caaaaaapes!"
Valtora, that's her.
The Wonders, that's her superhero backup band.
They think she's saving them.
No one's cheering for me. They don't know about me.
∞
Valtora wasn't always a superhero. She wasn't even always Valtora. Life gives you letters and you make letternames. That's the kind of stuff Valtora doesn't say. She just does it. Survivors, we just do the things that other people mouth about.
First Valtora was Valentino. Italian mafia. Man of a hundred wives and a million hits. No one cut off any of his body parts.
Then she was Valerie. Beautiful girl with a beautiful mouth. High-class escort in the pretty city. Everyone liked her body parts. Even when they found out most of those parts weren't original model material.
When the war blew into town, she became Val. You want a gender? Hers was tough-talk-no-takebacks and sly-in-the-night. Someone was slyer, though. Someone with a big blade and the desire to make her talk. You lose two legs at the knee, turns out the sounds that come out of your mouth aren't words, aren't song, aren't nothing so much as a whole lot of fuck yous.
By the time I entered the big picture, she was already on her way to becoming Valtora. Bombshell. Vibrato. Superhero. Weapons of choice? Curves that'll knock you sideways if you don't look away quick enough, a voice that'll devastate you right off a high cliff and a pair of legs that'd as soon fuck you up as run.
And me? I stand next to the stage and I get knocked on my ass by those goddamn curves. I open my veins and let that voice work its way inside me like a virus. I design those legs that'll fuck you up. But mostly, well mostly, I save the world.
∞
You want to know what she is, right? You're thinking: Really a superhero? Some kind of immortal? Maybe that's just a lie upon a lie upon a lie. Maybe she's just a human who lost a pair of legs and a pair of balls in a suicide car over a bridge one starfucked night.
Or maybe the lie is the one you tell yourself, in those dark nights when worry and fear beats the skindrum of your ribcage and God's on your side and there's no such thing as devils or demons or even superheroes that can fuck you up with the slip of a tongue.
Those lies have no place in me anymore. Not with Valtora in my life.
---
[Excerpted from "Saving the World", Geek Love: An Anthology of Full-Frontal Nerdity]. Read the rest of the story by picking up a copy of this beautiful book. It's full of amazing stories of sexy, subversive geek boys and girls getting it on, all accompanied by art and comics. (As a point of trivia, the graphic design for Geek Love is by Bear Weiter, who is now the art director at Monte Cook Games. This was the first project he and I worked on together, way back when).