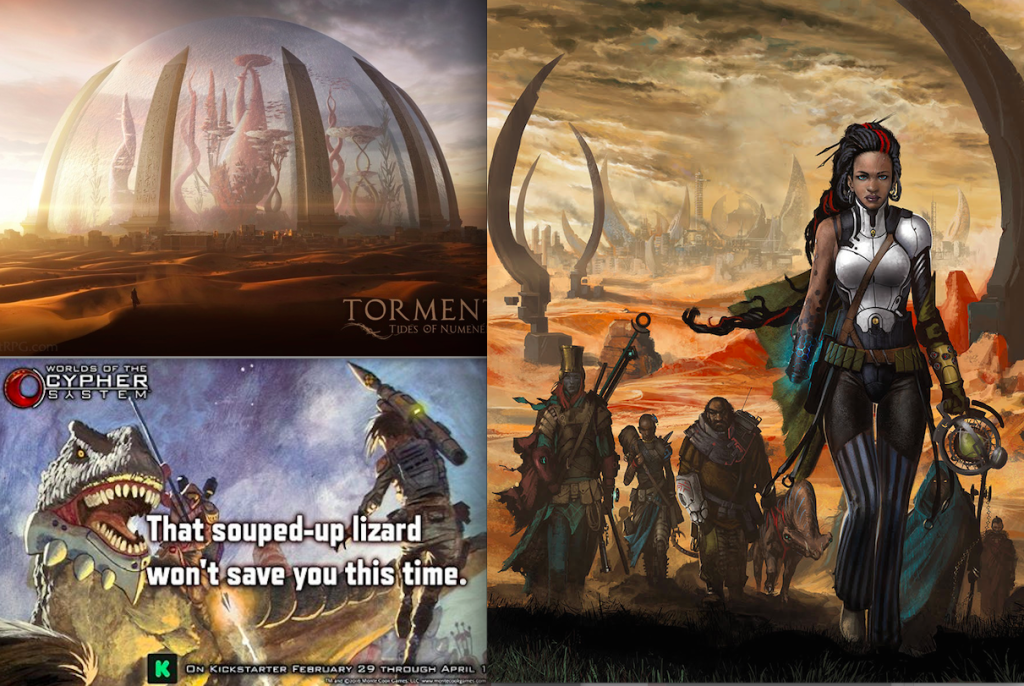 I can't remember if I told you this already, but in addition to The Poison Eater, I've been working on the sourcebook for the upcoming Torment: Tides of Numenera computer game. (As well as thinking about dinosaurs and guns for this other thing).
I've always been someone who likes to work on multiple things at a time. I think it comes from my own nature of loving to start and learn new things (I once had someone tell me, "Well, of course you never finish anything. You're an Aries."), but it also means that if I get stuck on one thing, I can jump over to something else. That (plus, of course, damn and lovable deadlines) is what keeps me from hitting writer's block (or, more commonly, writer's "what the hell am I doing?" inertia.)
I like to have one book that I'm just starting (all these awesome ideas! and I haven't written anything but ideas so it's still perfect! WOOO!); one that I'm still in the "I got this" stage (cool. I know what I'm doing. This is going well.) and one that I'm in the "OH NO I NEED A NEW JOB!" stage (Ugh. This is awful. I can't remember what I wanted to do with this book or my life. I should just tear it all up and start over.")
Currently, that's Predation (new), Torment: Tides of Numenera (knee-deep) and The Poison Eater (Ugh. I'm the world's worst writer).
Having three projects that were all in the same mental space would be awful, I think. Particularly if it's in the world's worst writer phase. I might never write again.
On the other hand, I know lots of other writers who like to deeply immerse in a single thing. Anything that takes them from that thing is a nuisance and a distraction. I envy that in some ways. I don't think I have the focus or patience to sink that deeply in a single thing, but there's a lot of value in that process.
I think one of the biggest fallacies in writing (beyond: There's only one way to do it) is the idea that you are going to figure it out right out of the gate. That you're going to finally carve time and space out of your life and you're going to sit down and make a single book and you're supposed to just know how to do it. And that's just utter bullshit.
It took me years of shame and "I'm doing this wrong" to finally admit that I worked on multiple things at a time, because I'd never heard anyone else talk about that. Worse, I keep trying to do it "right" — in this case, by writing a single thing. And, my god, the time I wasted.
Allowing myself permission to work on many things at a time might seem obvious to lots of people, but it wasn't to me. It was one of the many blind spots I had in my own writing process. So if there's something that you do that feels like it works for you, but you don't think you're supposed to do it that way, I say: keep doing it. Maybe, in the end, it isn't your thing. But maybe it's one of the important keys to your writing process.
Double- (or in this case, triple-) fisting your writing can be weird sometimes, I'll admit. Today, for example, my task list looks like this:


And there's a very different tone and sensibility for each book. So I have to figure out good ways to transition. I have talismans at my desk for that process. There's a dinosaur with bright colors and feathers that reminds me to do good research and make sure we're representing dinosaurs as they really were. There's the cover and a map for The Poison Eater. All I have to do is look at Talia striding across the Ninth World and I remember what I'm doing. When I'm about to start working on Torment, I often jump into the beta of the game for a few minutes, immersing myself in the interactive version of what I'm making.
Working on more than one thing keeps me excited about each of the projects. Because I know that if I get stuck on one, I can jump to something else. And by the end of the day, I'll have words and ideas to move all three projects forward. And that, more than anything, is what I know about what it means to be a writer: What words I have made at the end of the day.
~iadace~
~~
Follow along! If you're interested in learning how this novel (or, really, any novel) comes together, feel free to subscribe to this blog. Over on the right in the sidebar, you can subscribe to JUST posts that pertain to The Poison Eater, so you don't get all the other stuff. Or just click The Poison Eater category to get a list of all the previous posts.