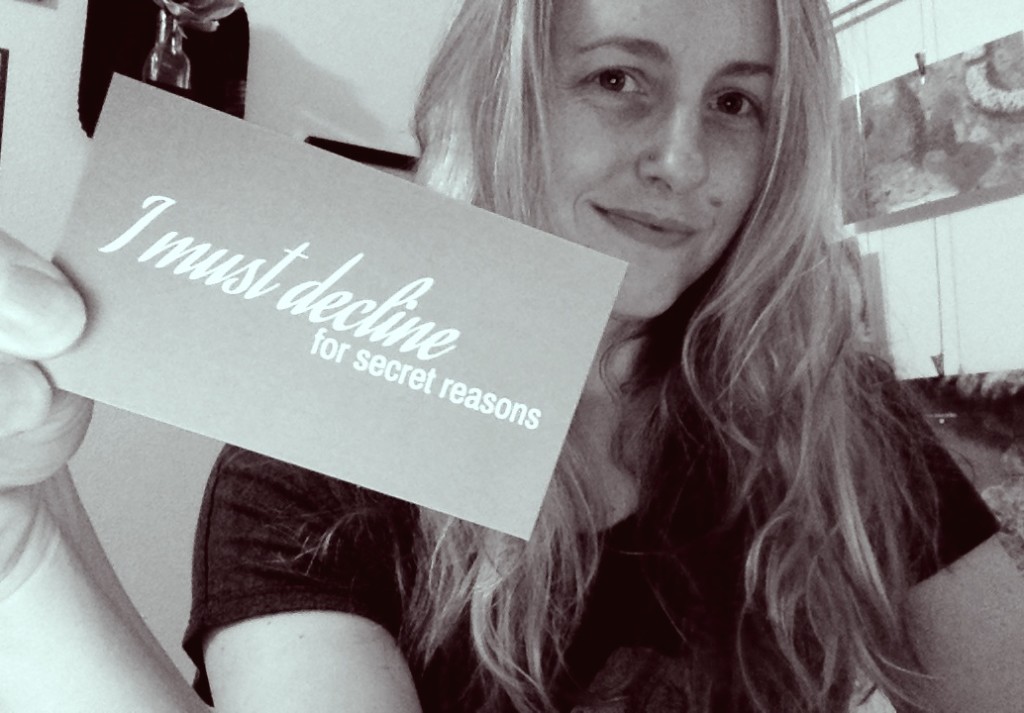 How do I say no to thee? Let me count the ways:
Sorry, can't make it to your event/wedding/game/dinner party/awards ceremony.
No thank you, dirty dishes.
Just walk by the XBox… walk right on by. Fallout 4 will wait for you.
"I'm sorry. I'm booked out with clients for the next six months."
I can't do your podcast/radio program/video blog until May.
Oh, puppy. I know it's a beautiful day for a long hike, but how about a bone instead?
What dinner?
What shower?
Go away, social media. Go away, cute puppy pictures. Go away, trolls. Go away, interesting and informative articles.
I'd love to, but I must decline for secret reasons.
Saying no is, for me, the hardest part of writing. I WANT to say yes to all the things (Okay, not all the things, but many of the things). I like people (mostly), I like fun things (a lot), and in all truth, there are days where I'd rather do ANYTHING other than write. Those are the days where I almost convince myself that I like cleaning out the fridge.
But. That's not my road. My road is the No Road on the way to the Yes Road. In order to find writing time, I have to leave something behind, like so much litter out the window on the highway of life. (Don't actually litter. Duh. It's a turn-of-phrase).
When I was 20, I thought I'd have time to do everything. Write all the books. Love all the people. Have all the sex. Eat all the desserts. See all the places. Learn all the things. Watch all the movies and read all the books.
Now I know better. Now I know that every gain is a loss. Every yes is a no. Every recipe perfected is a chapter unwritten.
Don't get me wrong–I don't want to suck the joy out of my life. One of my oldest, most favorite shirts just says HEDONIST on it in big, bold letters. I want it all, goddamn it. And there's a part of me that's still angry that I can't have it. But the older, wiser (?), more realistic me gets it. It's a return-on-investment equation. The bigger the NO, the greater the YES.
Today, I said yes to this blog post. I said yes to dinner and watching X-Files and playing with the dog. I said yes to work tasks that can't be put off.
And then I said no to everything else. Because this novel needs a lot of yes from me today.
What will you say no to in order to say yes?
~iadace~
Shanna
PS – Did you snag the sample copy of the first chapter of The Poison Eater yet? Grab it here.
~~
Follow along! If you're interested in learning how this novel (or, really, any novel) comes together, feel free to subscribe to this blog. Over on the right in the sidebar, you can subscribe to JUST posts that pertain to The Poison Eater, so you don't get all the other stuff. Or just click The Poison Eater category to get a list of all the previous posts.