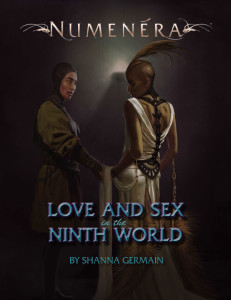 During the Mature Topics in Gaming panel at Dragon Con, I made the suggestion that GMs who had mature topics in their games give their players a questionnaire to fill out before their game or campaign (similar to the way the BDSM/kink/sex community recommends filling out a sex-themed questionnaire before you engage in kinky activities with someone — if you haven't already seen these, here is a very detailed printable BDSM checklist and here is a list of other checklists and resources.). I also suggested incorporating aftercare–taking a few minutes for everyone to talk about the experience and make sure everyone's okay before you leave the table.
Some people have emailed me since that panel to ask if I have a questionnaire like the one I suggested, and since I don't (and couldn't find an existing one), I thought it would be a good idea to create one.
The questionnaire would cover a wide variety of mature topics at the table, including sexual and romantic experiences and relationships, violence, coercion, gender and sexual orientation, and more.
The goal: to provide GMs with a good sense of what mature topics their players are comfortable with and interested in, and to what extent (e.g. "Sex is okay, but only if it fades to black" vs. "I am okay with explicit sexuality at the table." Or "Violence and death are fine, but please no gore" vs. "Give me all the grisly details!"). It also allows players to unequivocally state what topics or themes they want no part of. Being able to answer in writing — as opposed to talking about it — sometimes allows people to be less self-conscious and thus give more honest answers. Overall, the hope is to provide a better, more inclusive, non-judgmental, non-triggery experience for everyone around the table.
Once it's done, I'll make it available for free to anyone who wants it (and might also include it as part of the download for the Numenera supplement, "Love and Sex in the Ninth World").
For now, I'm looking for some people to be my sounding board — those with experience or interest in mature gaming topics who would like to offer suggestions for questions or topics, see if it's missing anything, check my language for accidental toe-stepping, etc.
Here's how to get involved: send an email to shanna.germain@gmail.com with the subject line MATURE TOPICS IN GAMING. Once I've got a draft of the questionnaire finished, I will send it along to everyone who emails me for their feedback.
Please pass the word along to anyone you think might be interested. The more voices, the better!